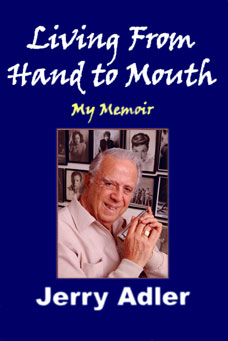 Jerry Adler spent 66 years as a popular performer on top draw American and European vaudeville, concert hall and night club stages. He played command performances before European royalty, once yielded a stage to Mao Tse Tung, and for 25 years he was the first call musician when Hollywood needed a harmonica sound track.
His heartfelt chromatic playing set the tone in themes for landmark films the likes of "High Noon", "Shane" and "Breakfast at Tiffany´s".

In 2004, when he retired at the age of 86, Jerry begann writing about many of his extraordinary career experiences and relationships with some of the world´s most well-known movie stars. His unique collections add unexpected dimension to personalities most of us only guessed at from what we saw on the silver screen.

A onetime regular on Jimmy Cagney´s bowling team, and a pal to numerous glitterati from the Golden years of film, his insights are unparalleled.Among the 45 plus anectodes in his collection are personal stories about Cary Grant , Johnny Carson, Frank Sinatra, Elizabeth Taylor, Gene Kelly, Humphrey Bogart, Bette Davis, Katherine Hepburn, Spencer Tracy, Danny Kaye, and the list goes on!

A wonderful read from a gifted musician.

"Living From Hand To Mouth" is an amazing romp in the world of show business. It´s a well- crafted archive of hilarious events and encounters featuring many of Hollywood best-known stars.
Comments by Paul Ruppa

"I just had to let you know about your book. I started it tonight and it's a joy to read. It's written so well that I don't want to put it down. It's so easy to read! Thank you so much for perservering with publishing it - it's a real gem."
Gloria Johnson, Toronto, Canada

"I just wanted to tell you I loved your book. It was a great ride. You wrote it well, wth great and intriguing stories. Again, I had a ball reading it. You have made a difference in the world!"
Bob Corff - Los Angeles, California.