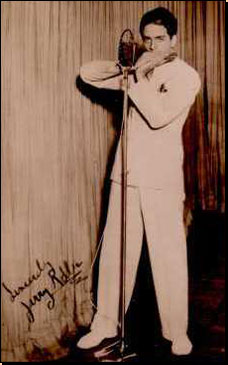 Jerry Adler began his musical career at the age of 13 by winning first prize in a state-wide harmonica contest sponsored by the Baltimore Sun.

Jerry has toured major vaudeville theatres and night clubs throughout the world. It was during an appearance at the Hippodrome Theater in Baltimore, Md. that he received an offer to appear at the London Palladium. Soon Jerry began receiving offers throughout Europe and Asia. What began as a two-week engagement in London expanded into a continuous tour that lasted over four years.

At the age of 17, Jerry was honored with his first British Royal Command Performance at the London Palladium. He was invited by President Harry S. Truman to appear at the White House.

Jerry has been a featured performer with Ed Sullivan, Jack Benny, Frank Sinatra, Glen Campbell, Steve Allen, Johnny Carson and Dinah Shore.

Among his many moton picture and TV credits, Jerry has scored such well-known themes as Shane, The Alamo, The James Dean Story, and Breakfast at Tiffany plus many more. He received a special citation from Mrs. John F. Kennedy in appreciation for his harmonica score which was the theme for the TV special, Young Man From Boston, about the late John F. Kennedy, which aired following his assassination.

Jerry's latest activities have been directed toward college concerts with his most recent performances at Schoenberg Hall at the UCLA Center for the Performing Arts, Colorado School of Mines Green Center Auditorium, the Wilshire-Ebell Theatre in Los Angeles, El Camino College Center for the Performing Arts plus guest solo appearances with the Los Angeles Pops Orchestra, Manila Symphony Orchestra, and the Abileen Philharmonic. He has performed additional one-man concerts as guest soloist aboard the cruise ships of Cunard, Crystal, Royal Viking, Sitmar, Royal Caribbean, Regency and Holland-America. His most recent efforts have been the publication of his memoir, Living From Hand to Mouth, now in its third printing.

New York Daily News
Virtually no end to the amazing musical sounds as performed by harmonica virtuoso, Jerry Adler. His rendition of Liszt's Hungarian Rhapsody literally brought the audience to their feet. Four well-deserved encores followed.

London Times
Jerry Adler, one of the best harmonica players on the scene today, makes the lowly harmonica sound like an entire symphony. He plays everything from Liszt to Gershwin to Porter with the dexterity and musicianship of a seasoned performer. His rendition of the Gershwin Rhapsody In Blue stopped the show cold.

Los Angeles Times
The harmonica artistry of Jerry Adler was the highlight of the show. He transforms this simple instrument into sounds usually related to an entire symphony orchestra.

Denver Post
Harmonica artist, Jerry Adler is a real pro whether he is dazzling his audience with brilliant music or relating wildly humorous anecdotes of his past. Adler has a warm, likeable personality that captures his listeners from the opening of his performance to his final number which was greeted with a well-deserved standing ovation.